We offer three distinct tour routes in the immediate Cincinnati area. All three routes are 2hr experiences, including 15-20 min of training and a 90 min guided ride. Custom tours are also available. Give us a call for details about entertaining large groups.
Please see the "Showroom Location" link above under "Contact Us" for a map of both locations.
Our Riverfront and Downtown Tours meet and depart from our showroom, at the corner of Vine and Central Pkwy.  Parking meters and a parking garage are available in the immediate area and attached building.  Please check your confirmation email for more info.
Eden Park Tours meet and depart from the comfort station, at the corner of Fulton St. and Eden Park Dr. Parking at Eden Park is free. Please check your confirmation email for more info.     Click here for a map of both locations.
COST: 

$60 per person. Minimum groups of two.
TIMES:

 Tours are 3-4 times daily; tour locations and times can vary. Always check our online calendar for daily accurate tour times. Online booking is available up to 3o days out.


What is better than a tour experience at Segway of Cincinnati?
Sharing it with friends and family at home? Well, now you can. HD Video cameras are now available for rent so you can record your tour experience! Then share the fun by posting it to the internet or viewing it on your tv, or mobile device. The HD Video camcorder records 1080p video of your tour to a 8 GB SD Card that you get to take home with you. Choose from a helmet top or side mount, or it can be mounted to the Segway. Rent two cameras and record your friends, or record yourself and the route! A HD video camcorder, a choice of mount, and a 8GB Micro SD card are included for $25. Please mention if you would like a camera rental(s) when making your reservation. If booking online you have the option of adding a camera rental(s) when making your reservation.

Seasonal Offer: Historic Spring Grove Cemetery & Botanical Gardens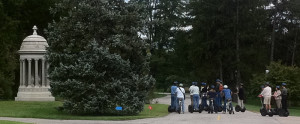 NEW! Lights of The City Tour: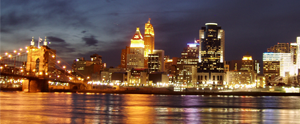 NEW! Art of Cincinnati Tour: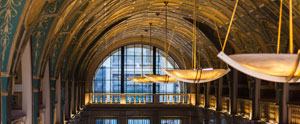 Riverfront Tour: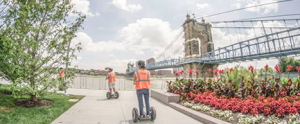 Eden Park Tour: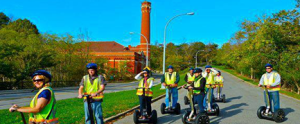 Downtown Tour (Cincinnati's Center City):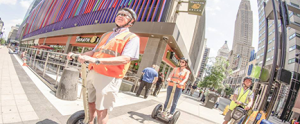 Seasonal Offer: 

HOLIDAY GLIDE WITH SEGWAY SANTA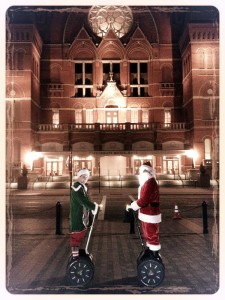 [/toggle]
---
Additional Information:
Times between Thanksgiving and the New Year vary due to our special holiday routes; please click [book now] for specific days and times. Holiday route times will be announced in September; stay tuned to our news and events section, or sign up for our newsletter.
All tours are based on availability and are first come, first serve.
Tour times and tour locations are subject to change.
For any time or location outside of our normal schedule, please email kristy@segwayofcincinnati.com.
How to make an appointment:

Reservations can be online by clicking [book now] below. Based on availability. First come, first serve. Click [buy now] to purchase a gift voucher.


Who can participate in a Segway PT tour?
The State of Ohio requires that riders be at least 14 years of age to take a Segway PT tour. A rider that is 14-17 years of age must have a parent/guardian signature to take a tour.  An underage waiver is available for download here.
The rider must be between 100 and 260 lbs. (45 to 117 kg.)

The rider must be able to step on and off the Segway PT without assistance, which requires physical abilities similar to climbing and descending stairs without the support of a handrail or other walking aid.
Waiver for Minors
PARKING:
On-street metered parking is available.  Hours Of Enforcement in Downtown & Over-the-Rhine are 

9 a.m. to 9 p.m.

 

Monday

 through 

Saturday

, and 

2 p.m. to 9 p.m.

 

Sunday

. Rates are posted on each meter and vary by location, so please check the meter.
We are not responsible for expired parking meters and/or parking violations.
WEATHER CANCELLATION POLICY:


WE reserve the right to cancel the tour if we deem necessary due to weather conditions no later than one hour before departure on cell # provided at time of reservation.  
- If you need additional time for travel etc. please contact reservation staff
– We make every effort to get all Tours out and are constantly checking multiple weather forecasts and radar images to make the best decision WE feel possible. Again, we want you, our guest, to enjoy yourself on the adventure as much as possible while keeping SAFETY our #1 Priority!
CANCELLATION POLICY:
– Cancellations must be called in to our office at

(513)225-1583

,

email cancellations are not accepted

.
– You have until 48 hours before your scheduled tour time to cancel or reschedule for any reason.
– After this time you are committed to the tour and will be charged full price of the tour for each individual not in attendance on the credit card used to hold the reservation.
– If gift certificates, or vouchers are used to hold the reservation they will lose half of their value.
 For a complete list of Segway Authorized tours worldwide, click here.
WATCH OUR TRAINING VIDEO: