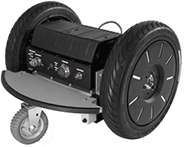 Multiple Features & Benefits
Segway® Robotics Mobility Platforms (RMPs) are robust, reliable and offer the benefit of a straightforward, low-level design. This provides users the freedom to choose and integrate the best sensors, radios, PCs, vision systems, manipulators or other hardware for their specific applications.
Practical Performance
Segway RMPs — Workhorse units that are:
Based on the Segway PT's proven battery, gearbox, motor and powerbase designs

Compact, easy to transport and quick to deploy

Reliable, easy to operate and powered by lithium-ion battery packs

Configurable and scalable
Varied Applications
Our mobile robotics platforms are applied to a variety of markets segments including:
Research and development

Indoor/outdoor navigation and path planning

Industrial automation

Defense application
---
Proven Expertise
Segway is one of the world's leading developers of Robotics Mobility Platforms (RMPs). Its RMPs leverage the components and proprietary technology that has been deployed and tested in rugged environments across the globe as part of the durable Segway Personal Transporter (PT).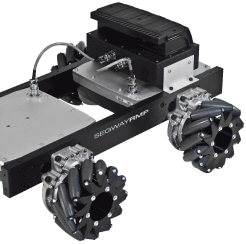 Deliberate Design & Customization
Segway's engineers lead the product development industry in the areas of drive-by-wire technology, advanced sensing systems, dynamic stabilization and smart battery management. Their expertise is demonstrated in the simple and straightforward design of robotics platforms, which boast unmatched versatility, durability and performance.
RMP platforms are available in a variety of 2, 3 and 4 wheel configurations. All feature a flexible and intuitive user interface developed with the knowledge that simple customization and rapid integration are key features that our customers demand. The available selection of standard options allows each RMP to meet the mobility demands of most unmanned ground vehicle applications. In order to meet the needs of customers that require delivery of complete turn-key systems, custom options and full integration services are available.
Open Architecture & Easy Integration
Segway's robust electric propulsion system coupled with a flexible user interface results in an open architecture platform. The platforms provide researchers, scientists and engineers the ability to easily integrate sensors,
manipulators, additional payloads and other third party equipment into or on top of the platform. Create advanced robotics solutions for research as well as commercial products with Segway RMPs.
---
LEARN MORE ABOUT SEGWAY ROBOTICS!
Models
Segway RMP210
Segway's RMP210 is a now available. Additional information will be posted soon. Contact us at info@thegarageotr.com or call (513) 225-1583.
Segway RMP220
Segway's self balancing RMP220 is a now available. Additional information will be posted soon. Contact us at info@thegarageotr.com or call (513) 225-1583.
Segway RMP420 Omni and RMP440 Flex-Omni
Segway's RMP Omni series is now available. More information for this website to come soon. Additional information will be posted soon. Contact us at info@thegarageotr.com or call (513) 225-1583.
Segway RMP440 LE and SE
Segway's RMP440 is a rugged, all-terrain, four-wheel drive mobility platform. Its design empowers today's mobile robotics developers to easily integrate their own equipment on top of the platform and build a customized application to meet their specific needs. Its specifications speak for themselves.
RMP440 LE

This configuration's large electronics enclosure provides internal and integrated charging power supplies and delivers a charge rate of 0.6A per battery pack and a ~6-8hr. recharge time. The RMP440 LE also provides space for customer equipment within the enclosure and an auxiliary power module that drives up to 3 channels of DC output (5, 12, 24VDC).

RMP440 SE

This configuration's small electronics enclosure offers an off-board, high current charging power supply that delivers a 2.1A charge rate per battery pack and a ~2hr. recharge time. It also has a user interface box that may be located anywhere on the chassis depending on the length of the umbilical harnesses as well as two additional channels of DC output voltage.
Chassis
Length: 43.5" (110.5 cm), Width: 33.1" (84.2 cm), Height: RMP440 LE – 21.0" (53.3 cm), RMP440 SE – 23.9" (60.7 cm)
Weight: RMP440 LE – 265 lbs (120.2 kg), RMP440 SE – 235 lbs (106.6 kg)
Ground Clearance: 4.7" (12.0 cm) with standard gearbox mounting, 11.3" (28.8 cm) with inverted gearbox mounting
Maximum Payload Capacity: 400 lbs (181.4 kg) Continuous operation on lowfriction surface with wide turns
All-Terrain Payload: 200 lbs (90.7 kg) Turn-in-place operation on high-friction surface
Mobility
Maximum Forward/Backward Speed: 18 mph (8.0 m/s)
Brushless DC Drive Motors: Four independent and fully redundant drive motors
Traversable Terrain: Asphalt, grass, rocks, sand, snow and woods
Turn Radius: 4-wheel skid/tank steer for turn in place capability (Turn-in-place capability and turning radius are dependent on the load conditions, operating surface type, tire friction, etc.)
Turn Envelope: 51" (129.54 cm)
Climb/Traverse Grade: 30° Estimated and based on an unloaded platform.
Wading Depth: 9.7" (24.8 cm) with standard gearbox mounting, 16.0" (40.6 cm) with inverted gearbox mounting
Electrical Connections
Charger: Supply voltage: 100-277 VAC, 50/60 Hz
Auxiliary DC Power: Optional – 5V – 100W and 24V – 150W, Standard – 12V – 150W
Power
Battery Chemistry: Li-ion (LiFePO4)
Electric Propulsion: Assures virtually silent running
Run Time: Up to 20 hours (stand by)
Communications
Standard Interfaces: Ethernet, USB and CAN
Motion Control: Commands received from customer's host PC, status and performance feedback data provided
Military Grade Bulkhead Connectors: Standard on all communication and power ports
Software/Firmware
Available Open Source demo operator control software and end user upgradeable firmware
Environmental
Operating Environment: 32° – 122°F (0° – 50° C) (Storage temperature range is wider)
Ingress protection: designed to meet IP66/NEMA 4 standards (Batteries must be installed in order for enclosure to be fully sealed)
---
FAQs
Segway RMPs are designed to take commands from a higher level, user designed, navigational system via a simple USB or CAN serial bus interface. The control processor may be a laptop receiving joystick commands from a stationary PC, a small microcontroller, or some other device that can send velocity and steering commands to the RMP. In general, most users find that CAN bus provides the most deterministic control of the RMP.
RMPs can receive speed and turn rate commands at regular intervals (no shorter than every 10 msecs and no longer than 300 msecs). Commands are saved for approximately 400 msecs before the speed and turn rate are slowed to zero. This prevents persistent machine movement if communication with the controlling computer is interrupted. Other configuration commands are provided for changing controller mode and adjusting performance limits.
Segway provides a demonstration application with C++ source code that runs on Windows 2000 and Windows XP platforms. The source code illustrates how commands may be constructed and sent to the RMP and how data may be received back and parsed. This application may also be used to check/test the RMP's functionality.
• User Guide (42 pages)
• Interface Guide (13 pages)
• USB drivers installation instructions
• Demo application with C++ source code
• 3D CAD Models
Segway has authorized Manu System AG as an international distributor of it's RMP product line. You may contact them at any time to aquire Segway's RMP product:
Manu Systems AG
Brunnstr, 25
93053 Regensburg
Germany
Phone: +49 941 9459 280
Fax: +49 941 9459 289
E-Mail: mail@manu-systems.com
Website:
http://en.manu-systems.com/