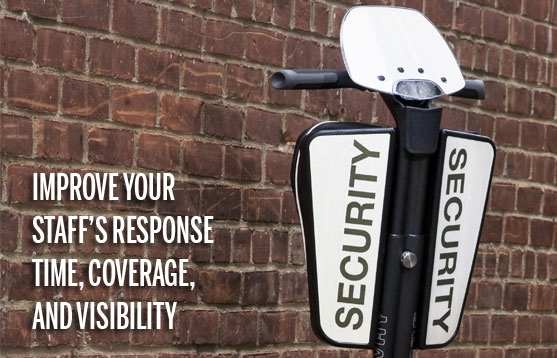 Corporate and contract security firms are increasingly faced with the challenge of optimizing the efficiency and productivity of their security team in order to meet their client's demanding requirements. Security officers that utilize Segway Patrollers appreciate its ability to:
Improve response time by traveling up to 12.5 mph
Trek indoors, outdoors, into elevators, up ramps and through doorways
Turn with a true zero radius, pivot within its own shoulder width footprint and maneuver in very tight spaces, including between parked cars
Traverse various terrain quickly and enable them to patrol vast areas to manage large crowds
Case Studies
Please take a few moments to peruse private security case studies to learn more about real-world implementation of the Segway Patroller.
| | |
| --- | --- |
| | Nearly three million people visit Chicago's McCormick Place® each year, most of them as attendees or exhibitors at one of the hundreds of meetings and conventions hosted by the facility. Security Manager, Tom Dorgan, relies on the Segway Patroller to assist his team's patrolling and surveillance efforts. |
| | Learn how large shopping centers like Sonae Sierra in Lisbon, Portugal increase their security personnel's productivity with the Segway Patroller. |
| | IPC International Corporation is the industry leader in shopping center public safety services. With almost 30 years of experience and more than 400 centers in the U.S., Puerto Rico and Great Britain, IPC is an industry barometer. When IPC announced their Security Patrol Program for the Segway Personal Transporter (PT) it was regarded as a major innovation for the industry. |
| | Hong Kong's AsiaWorld-Expo (AWE) is the only exhibition centre in the world that is fully integrated with one of the world's busiest international airports and has its own in-venue railway station. Segway Patrollers allow security to respond quickly to issues as they arise throughout the facility. |
| | When covering large public events, BaySecur assigns Segway® Personal Transporters (PTs) to their patrol leaders for ease of transportation, better sight lines, quicker change of location and increased acceptance from event-goers. |
"The Segway Patroller allows for quick transportation throughout the University's sprawling campus and at large events. It can also easily travel from indoors to outdoors. The overall versatility is terrific."
Captain Jon Barnwell,
North Carolina State University
"We have calculated that using one Segway Patroller produces a manpower savings of one and a half men or at least $50,000 – 60,000 per year, per unit. That is an incredible return on investment."
Tom Dorgen, Security Manager,
Metropolitan Pier and Exposition Authority
"The Segway PTs made the officers more visible and, as a result, the shoppers and store owners felt more secure. In addition, because of the maneuverability of the units and the increased observational height, our officers were able to see over cars and better patrol our parking facilities."
Sergio Carvalho, Manager of Maintenance,
Sonae Sierra, Portugal
---
Even more case studies can be found at 
Segway.com
.