Patroller for EMS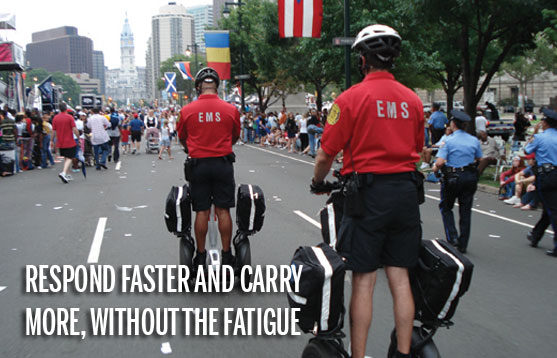 In a crisis situation every second counts, which is exactly why the emergency medical service (EMS) industry embraces the Segway Patroller. EMS professionals riding the unit can:
Travel up to 12.5 mph, arrive at emergencies quickly, without fatigue and with the composure needed to address the situation
Accommodate Segway's universal cargo plate and cargo bag options and conveniently carry the life saving medical equipment needed to treat patients until an ambulance arrives
Maneuver through crowds and tight spaces and even through doorways and into elevators
Case Studies
Please take a few moments to peruse EMS case studies to learn more about real-world implementation of the Segway Patroller.
| | |
| --- | --- |
| | Throughout the years, the Philadelphia Fire Department has prided itself on providing the most effective fire and emergency response to it's' citizens. The department purchased Segway® PTs for its Special Event Response Team (SERT). |
| | The Glendale Fire Department in Glendale, AZ is involved with a number of high-profile events, including the recent SuperBowl XLII. Emergency response, preparedness, and public safety are of paramount importance when planning for large-scale events and the Segway Patroller has become an instrumental tool. |
| | In June 2005, the Chicago Fire Department developed a Segway Patroller emergency response team that provided paramedic support during special events in the city's downtown and lakefront area. The program was so successful that it was expanded to form an Advanced Life Support (ALS) Segway team that would patrol the city's central business district on a daily basis. |
---
Even more case studies can be found at 
Segway.com
.