Become a Segway Commuter
Compare the Segway PT's total cost of ownership, energy efficiency and operational costs vs. those of the average American car and we think you'll agree: the benefits of owning a Segway PT have never been clearer.When used for a regular commute1, a Segway PT is 11 times more energy-efficient than the average American car2. Consider these differences in operating cost and carbon footprint:
Enjoy a stress-free commute and be free from public transportation schedules. Utilize a singular door-to-door transportation solution.
Don't forget about the hassles of parking, fustration with congestion, and significant maintenance costs associated with automobile ownership.
Read our white paper on "The Role of the Segway PT in Emissions Reduction and Energy Efficiency" at 
www.segway.com/efficiency
.
1 Estimates based on average commute of 10 miles per day, 2,500 miles annually.
2 Assumes realization of average efficiency. When car is first started and driven only for short distances, actual efficiency is typically poorer.
Can you visualize a world without lines at the gas pump? Never having to sit in stopped traffic? Or worrying about missing the 5:30 train because you're running late at work? None of these issues are a care with the Segway PT. Just step on your Segway PT, enjoy your day and take control of your commute.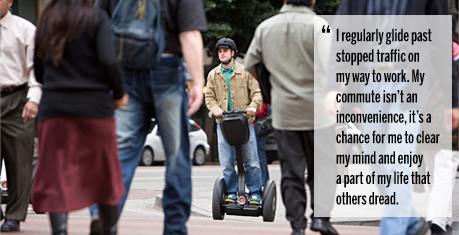 Enjoy a stress-free commute, free from public transportation schedules
Utilize a singular door-to-door transportation solution
Far less expensive to own than an automobile, saving thousands of dollars on fuel, insurance, maintenance, and parking
Indoors or out, the Segway PT provides intuitive mobility no matter where your daily commute takes you