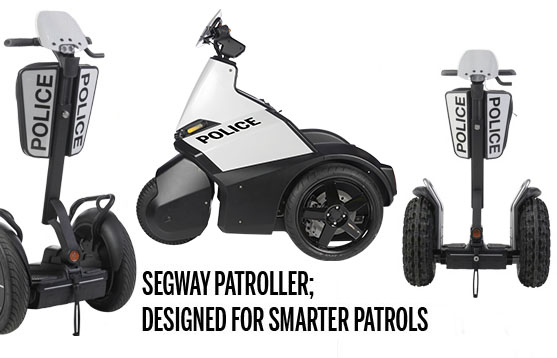 Segway Patroller Models
From the top down, this new piece of patrolling arsenal has been designed with you in mind. You had visibility; we made you more visible with  über-reflective shields. You started adding on lights; we packaged them better (and made them brighter). You stuck your organization insignia wherever you could; we created a better place for it. You wanted to carry more; we made the bag bigger. You wanted to feel okay about dumping the unit if you had to; we added a bumper that enables you to do just that.  Take a look at the enhancements and you get why the Segway Patroller is the best choice for moving officers around and keeping people safer.
Optic yellow and white reflectivity
We noticed a trend in public safety – especially in Europe – with the increasing use of optic yellow to provide greater visibility of the rider. It is appearing in apparel, as decals on vehicles, and now it comes standard on the Segway Patroller. If it doesn't jibe with your organization, there's also white; both of which are made from 3M™ DiamondGrade™ reflective material. That's the same high-grade stuff you see on street signs and vehicle edging. Shine a light at it and it shines right back at you with nearly blinding intensity.
You can choose black reflective identification lettering for police in multiple languages or security in English.
Red/blue or amber/white strobe lighting
Just below the top shield and above the center of the handlebar is a window that allows the integrated strobe lights to shine through. Choose between flashing red and blue or amber and white.
Tried-and-true technology
Each Segway PT uses patented dynamic stabilization technology that has been proven in the marketplace as a superior solution in crowded or tight venues. It empowers riders with unparalleled maneuverability (true zero turning radius) and a unique user interface that is so fluid we simply call it

LeanSteer™

technology.
---
Segway Patroller i2 SE
Think about where you'll be riding your Segway Patroller. If it's mostly indoor or over smooth terrain, consider the  Segway Patroller i2 SE model. Its smaller tires help to maximize range; getting you up to 24 miles/39 km on a single charge.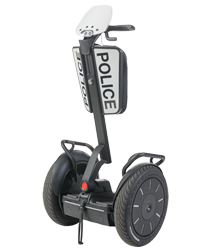 Segway Patroller x2 SE
If it's more rugged terrain you'll be traveling over outdoors, the x2 SE may be a better option for your organization. Its deeply treaded tires help carry you over dirt and loose gravel while providing for a comfortable ride.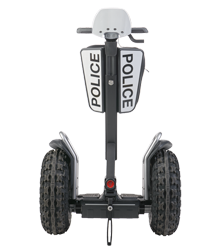 SE-3 Patroller
The SE-3 Patroller is for those missions that require a larger vehicle which can display a more visible and obvious security presence (even in a parked position without a rider aboard), or those situations that require a rider to frequently mount and dismount the vehicle.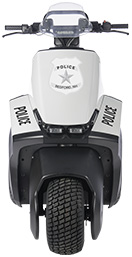 DOWNLOAD SE-3 SPEC SHEET
Accessorize It Your Way
Customize your Segway PT SE with our new

SegSolutions

, packages exclusively designed for the PT SE to optimize them for any lifestyle. Whether you're looking to make your job easier, your commute shorter, your trek through the woods more adventurous or you just want it to get you from point A to point B as quickly, and as fun, as possible there's a

SegSolution

for you. Check out our patroller accessories here.
To place an order, please contact us at info@thegarageotr.com, or order directly fro our webstore.
Patroller Procurement Options
Police departments, law enforcement agencies and private security firms are using Segway Patrollers more than ever before to improve their community policing programs. For more information on Grants, Sponsorships, or Leasing please CLICK HERE
FAQs